The history of Dale Hollow Lake is a rich one. In days gone by, most people equated the lake and dam to flood control and hydroelectric power.
That all changed with the World Record Smallmouth Bass caught by David L. Hayes. In addition to world-class Smallmouth Bass Fishing, there is fishing for largemouth bass, spotted bass, channel catfish, flathead catfish, black crappie, white crappie, walleye, rainbow trout, brown trout, bluegill, redear sunfish, rock bass, warmouth, white bass, yellow bass, striped bass, hybrid striped bass, muskie, paddlefish and sauger at Dale Hollow Lake.
Smallmouth Bass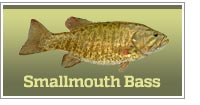 Prefers rocky areas of clear to slightly stained water in depths from one foot to fifty feet, with or without current. Ideal water temperature: 58° to 72°
World record: 11 pounds, 15 ounces
While the smallmouth only grows to about half the size of the largemouth, it is much more agile, faster and powerful for its size. It eats pretty much the same foods, just smaller specimens. It is without argument one of the finest game fish an angler can pursue. The thrill of the frantic runs and jumps are the source of many a fisherman's dreams.
Hayes, of Leitchfield, Kentucky, caught the legendary smallmouth in the mouth of Illwill Creek near Phillips Bottom, north of Trooper Island. He was trolling a pearl Bomber 600 in the trough between two weed beds on July 9, 1955. He caught the fish between 10 and 10:30 a.m. while fishing with his family.  David Hayes' legendary 11-pound, 15-ounce fish, taken from Dale Hollow Lake is the all-tackle world record smallmouth bass.
Renowned as the home of the world record smallmouth bass, Dale Hollow Reservoir is a 28,000-acre lake located in Kentucky and Tennessee, on the state borders.  In addition to excellent smallie fishing, the lake offers quality fishing opportunities for largemouth and spotted bass. Dale Hollow annually makes the Bassmaster Top 100 bass lakes in the USA. Crappie, catfish, trout, stripers, sunfish, walleye, muskie, paddlefish and others also reside in this impoundment. The nutrient rich water and plenty of forage unite to make this a fish factory – both for quantity and quality. Fishing from a boat is the desirable way to fish the lake. However, there are numerous places around the lake where bank fishing is accessible. And, with over 650 miles of shoreline, there are plenty of places to fish. Points, creek channels, ledges, humps and islands throughout the impoundment provide great habitat for fish – shallow in spring and fall, deeper in summer and winter. Places to portage a canoe or kayak are plentiful. There are numerous boat launch ramps around the lake for convenient launching of vessels ranging from small fishing boats, to family pleasure boats, to pontoon boats and houseboats.
Unsurpassed water purity and clarity are also a big part of the history of Dale Hollow Lake.  The lake is always ranked among the best house-boating lakes on the continent. In addition, the lake attracts about three million visitors annually. Dale Hollow and the surrounding area provide recreational opportunities in many areas. These include fishing, hunting, camping, boating, canoeing and kayaking, hiking, horseback riding, scuba diving and other activities.